Liver: some people love it, but let's be realistic here: most people hate it. I personally love the taste of liver, so I'm not quite sure what it is about the taste that turns a lot of people off. For some, it may be that the idea of eating an internal organ is a little off-putting, and for others it may be that they just don't like its unabashed, bold taste. But when prepared thoughtfully and with the right mix of flavors, liver can be absolutely delicious.
Liver As a Traditional Delicacy
Fois gras, fattened duck or goose liver, is usually made into pâté de foie gras and is considered a delicacy in France and other parts of the world. In many parts of the Arab world, liver has been traditionally eaten for many thousands of years. Speaking of fois gras specifically, this article details that it was the Ancient Egyptians who first discovered the trick to eating liver — a well-fed duck or goose!
It is perhaps the most finely and thoroughly marbled meat in existence and has an amazing sweet-savory, buttery flavor and velvety smooth texture. To produce such a meat, the birds (almost always ducks) must be force-fed (usually corn) for a brief period (usually two weeks) just before slaughter. In fall, migratory birds overeat in the wild in preparation for long flights, and the liver is a major fat storage site. Ancient Egyptians first noticed that the flesh and livers of wild geese trapped during this stage were extra rich, and the eventual practice of force-feeding is depicted in art from as early as the third millennium B.C. Birds are amenable to force-feeding because they lack a gag reflex (City Paper).
Force-feeding corn isn't exactly the healthiest way to raise ducks and geese, so a few farms have stopped that practice. They simply raise the geese on pasture and they are only slaughtered seasonally — "at a time when they have naturally eaten more to create reserves for what would have been migration" (BBC). So we have the Ancient Egyptians to thank for yet another delicacy!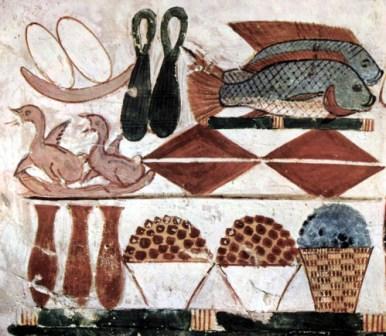 Growing up in Egypt, we would eat chicken livers and gizzards sauteed in grass-fed ghee on top of a heaping cup of rice cooked with ghee-fried she'reya (vermicelli pasta). So super tasty like you wouldn't believe! Another variation was a roz bil khalta ('mixed rice'), where the rice is toasted and spiced, then topped with fried liver (usually poultry liver is used), toasted nuts and raisins. It's one of my favorite traditional dishes that features cooked liver!
Pastured Liver: A Powerhouse of Nutrients
For those of you who don't really like liver for whatever reason, taking a look at its nutritional profile might change your mind. According to the Weston A. Price Foundation, a non-profit focused on educating the public about traditional real foods, liver "contains more nutrients, gram for gram, than any other food" (Razaitis). Besides the obvious fact that it's a good source of protein, it also has the most concentrated form of Vitamin A than any other food, all the B vitamins, including B12 (which is only available in animal-based foods), folic acid, a good amount of iron, copper, and CoQ10, a nutrient that is integral to cardio-vascular function — and these are just the main nutrients! (WH Foods).
Traditional cultures the world over have prized the nutritional content of liver, deeming it a 'sacred food' to be saved for pregnant and lactating mothers and warriors returning from battle. Purportedly, the Native Americans would traditionally only eat  the nutrient-dense organs of the animals they hunted, and feed the animal's meat to their dogs! (Encyclopedia Virginia).
The Taste of Liver
This Serious Eats article compares the difference in taste between poultry liver and calf's liver:
Poultry livers are good and well, but there's nothing quite like the flabby, glistening, massive presence of a calf's liver. Sweet and rich, a fresh piece of calf's liver is incomparably delicious, possessing the tenderness of a poultry liver coupled with the more assertive, feral taste that comes with eating a larger animal (Serious Eats).
Indeed, calf's liver has a richer taste than poultry liver, but it's still milder and more tender than beef liver. Of course, you have to make sure you obtain pastured liver from a farm that humanely raises calves and allows them to graze on fresh grass. The nutritional profile (and taste) of grass-fed animals differs widely from that of grain-fed, confined ones.
This recipe for calf's liver with honey is right out of a cookbook, Mediterranean Food of the Sun, with only a few of my own substitutions.
I used grass-fed ghee instead of the mystery 'vegetable oil' recommended, and subbed organic sprouted flour (I used wheat) instead of the suggested 'flour' in the book. Finally, I used a clear raw (but filtered) honey from a local beekeeper, while the recipe called for a more specific variety called acacia honey.
The mixture of honey and vinegar in the sauce produced a most perfect seasoning for the liver. I've only tried this recipe once so far, but I'm looking forward to making it a routine meal!
Pastured Calf's Liver with Honey (Kibda bil 'Asal)
Prep Time: 10 minutes
Cook Time: 15 minutes
Keywords: saute entree low-carb low-sodium nut-free soy-free sugar-free liver
Ingredients (serves 4)
4 slices pastured calf's liver, each about 6 oz and 1/2 inch thick
organic sprouted flour, for dusting (I used sprouted wheat, but you can substitute sprouted brown rice flour for a gluten-free version)
2 tablespoons pastured butter
2 tablespoons grass-fed ghee
2 tablespoons organic sherry vinegar or red wine vinegar
2-3 tablespoons homemade chicken stock
1 tablespoon clear raw honey
unrefined mineral salt and freshly ground black pepper, to taste
fresh curly parsley, to garnish
Instructions
(1) Prepare the liver: Thaw the liver if previously frozen by placing on a plate outside of the fridge for a couple of hours. Rinse the livers under running water, and dab them with damp kitchen paper to remove excess water. Then, season both sides with a little unrefined salt and pepper, and dust the slices lightly with flour, shaking off any excess. Place the the floured slices on a board.
(2) Melt the butter and ghee: In a cast iron frying pan, melt a tablespoon of the butter with two tablespoons of ghee over medium heat and swirl the pan to mix together and to make sure the surface is coated.
(3) Saute liver: Add the liver slices to the pan and cook for 1-2 minutes until browned on one side, then turn and cook for a further 1-2 minutes. Once the outside is browned and the inside doesn't release blood if sliced with a knife, then the liver is done. Be sure not to overcook as liver easily loses its tenderness when overcooked. Transfer to heated plates, cover with foil, and keep warm.
(4) Make the honey sauce: In the pan, add the 2 tablespoons of vinegar, and stir in them 3 tablespoons of chicken stock and 1 tablespoon of honey. Boil for about 1 minute, stirring constantly, and then add the remaining (tablespoon) butter. Stir until melted and smooth. Place the slices on a serving plate, spoon the liquid over the liver slices, garnish with parsley, and serve warm.
Can we all say 'yum' in unison? Okay, maybe you're still iffy about embracing liver, but I encourage you to try this recipe if you're an omnivore. You just might become an offal-convert after this experience!