I'll tell you a little story of how I ran into Ameirah online. I was surfing the web, trying to find out what the English words were for libb abyad (white pumpkin seeds) and libb asmar (smaller dark seeds also eaten in Egypt). You see, I am pretty much obsessed with eating libb. (I even took a bag with me on my honeymoon!) So, here I was, dying to find out what these smaller dark seeds were, so I can attempt toasting them at home, when I stumbled upon Ameirah's post on toasting pumpkin seeds! Libb asmar, she shares, are watermelon seeds! Now, I'd have to wait until watermelon season (summer) to make my favorites, but I was thrilled that my quest for libb asmar led me to Ameirah's blog, The Serious Eater. Libb, uniting Egyptians across the world! You see why I love it so much? 
I got even more excited when I learned that Ameirah lives in Cairo. Finally, a food blogger who lives in the motherland (Egypt)! She's the first (and currently, only) food blogger I know of who lives in Egypt and blogs about traditional Egyptian recipes in English. I spent a few hours reading her witty posts, and decided to message her about MidEats. Happy to say she agreed to do an interview, featured below. Read to find out about her favorite traditional recipes, her observations on the changes in Egyptians' food culture, the best places to eat in Egypt (this is advice from a real foodie, mind you!), and her experience with finding organic food sources in Egypt. 
Interview with Food Blogger Ameirah Abou-Azama of The Serious Eater
What inspired you to start a food blog and share your recipes with the world?
It's a bunch of things all together which finally led me to take the decision of starting a blog. During college and afterwards, my friends used to depend on me for recipes. I can't count the times when I have received emails on how to cook a turkey, or frantic phone calls on how to save a broken cake. I needed a way to save my recipes as well as share them easily (recipes scribbled on little scraps of paper and backs of receipts weren't really working). When my mom passed away, lots of her recipes went with her because she was never big on scrap-booking or keeping recipe cards. My husband and friends also kept on telling me to find a creative outlet for my cooking. Introducing Egyptians to new foods and food cultures, and showcasing traditional Egyptian foods to the rest of the world are both passions of mine and things I hope to continue to do on my blog.
As an Egyptian, I believe that throughout our history, we've always appreciated food. I want to rekindle this passion, and remind everyone of this lost art. The kitchen symbolizes to me warmth, nourishment and excitement. Cooking is easy and knowing what you are putting in your food is so important. "You are what you eat!", as they say. It doesn't have to be hours of slaving away in the kitchen; homemade food doesn't necessarily mean complicated. But the satisfaction you will get from making your meals is tremendous.
So, The Serious Eater … what's so serious about your eating habits? Jokes aside, what inspired the blog name? 
The name came from my strong bond with food; it's no joking matter! To me the kitchen is a fun place, but essential in my life. In fact, I consider the kitchen my favorite place in the house. I spend hours in the kitchen. When I was a little girl, I would be caught mixing different spices and tasting to see how well they went together. I would stare at my mom with awe as she made food, and would always insist on helping (and stealing a taste here and there!).
In my family, food was a serious thing. It was essential to have breakfast, and bring a snack with you to school. We almost always had homemade cakes, cookies, and even breads in the kitchen. Lunch was a wholesome cooked meal, and we rarely had take-away or ate out. We celebrated with food, consoled each other with food, and even tried out new things in the kitchen when we were bored. To me, food has become an art, a way of self-expression.
As an Egyptian food blogger living in Egypt, you're probably more aware of the Egyptian food scene than most Egyptians. Have you observed any changes in Egyptian traditional food culture over the past several years? 
Definitely! When I used to visit Egypt in the early 90s in the summer, we could rarely find 'foreign/American' ingredients that we commonly used in our kitchen. Broccoli, mushrooms, and iceberg lettuce, as examples, were never seen; however, veggies indigenous to Egypt like the superb, plump ripe tomatoes, and tasty raw peas were readily available.  Also, I remember it was even hard to bake cupcakes unless we brought our own cupcake paper cups from overseas! These were the difficulties my family faced in those times, as some of our own food favorites were not known in Egypt.
However, looking back, there were definite advantages: The food was much more traditional, and the ingredients were simpler. Also, the "diet craze" wasn't here yet, so you could not even find skim milk. I remember the first fast food chains [a well known fried chicken place, and later a famous pizza chain], and how these were considered 'very pricey', a treat to most Egyptians. We made pizza at home, and always made our own kahk (a sweet pastry made with ghee, flour and sugar) and baskoot (traditional biscuits) in celebration of Eid El Fitr. It was actually considered somewhat weird if you didn't make kunafa (a sweet vermicilli-like pastry) or your own Omm Ali at home, or if walked into someone else's home with a store-bought dessert instead of homemade.
I think this was due to the fact that Egypt was still fairly isolated from the rest of the world during the early nineties. Satellite dishes were not yet popular, and there was no internet yet. New and foreign dishes were only seen in local newspapers and magazines. I remember TV Chef Mona Amer, who was popular then, try to introduce many new dishes, and how many a house wife would laugh and just deem it too odd for her dinner table!
Now, the scene is totally different. You can get all kinds of fruits and veggies, including avocados from the local vegetable guy! Broccoli, mushrooms, and iceberg lettuce are all grown locally now, and Egyptians have grown a sweet tooth for foreign desserts. Brownies, blueberry muffins and cheesecake are normal things to order at any café. I can get local wheat germ at an Egyptian health shop, and my most recent discovery was flaxseeds! The barrier between the foreign and the Egyptian dinner tables has been broken. Internet, television, and a greater interest in new foods has caused this boom. The Middle Eastern version of The Food Network, Fatafeat, which is available to watch for free on satellite, is now all the rave in the average Egyptian household.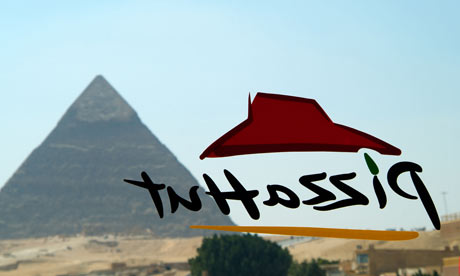 On the downside, however, we have been plagued with chains upon chains of fast food, all with delivery options. People have abandoned the wonderful local food, and substituted home-cooking for pre-packaged, deep fried, "mystery meat" sandwiches. In my opinion, this has led to the insane rise in obesity in Egypt and almost every household has a family member who suffers from diabetes. What has saddened me the most is that now, in Ramadan, almost no one makes their own sweets. It has become socially acceptable to buy tasteless, expensive, store-bought kunafa, baklava, kahk and baskoot. When I mentioned that I made my own kahk this year, people just looked at me with pity that I spent so much time in the kitchen! To sum it up, now we have access to almost everything here in Egypt, which is a huge leap, however, we need to educate each other to try to pick the 'good' food and not the 'bad' … which is another reason to encourage people to get back into the kitchens!
Is food blogging getting as popular in Egypt as it is in the U.S.? In your opinion, what are the most prominent barriers to starting a food blog in Egypt?
Honestly, I don't know of any other Egyptian food bloggers who write in English. I haven't scouted the Arabic blog [or modawana as it is called in Arabic] scene. This doesn't mean there aren't people out there doing it; I just haven't found/heard of them! Maybe the passion for cooking is just not there anymore, or maybe not a lot of people are searching, following and writing these types of blogs.
The first obvious barrier is the language. I write in English because it is my mother tongue, but I know there is a huge portion of the population who can't understand it. The second issue, is, unfortunately, I feel that generally as Egyptians, we'd rather watch something than read it. I think in that sense, an Arabic video blog would be an easier way to reach the masses.
You're half American, half Egyptian — how has your mom's American cooking influenced the way you cook traditional Egyptian meals?
My mom was a serious cook. We ate a mix of both — very traditional Egyptian meals, and classic American food. She never, however, used hydrogenated oils or margarine. It was either olive oil or butter. We would use the natural 'ghee' (and never the so-called hydrogenated  "ghee") only for making sambousek dough.  Compared to the rest of my Egyptian family, our food was less fatty. I used to cringe when we would be invited to dinner, only to find the fasolia [green beans] floating in 1 inch of orange grease. We also drank skimmed milk, or half cream, and always baked with far less sugar than most other people. I have kept up along the same lines because I am used to it, I guess. I am very sensitive to the amount of sugar in my food, and I even dilute my juices! I do however use eshta (heavy cream), but within reason.
What are your favorite ingredients to work with in the kitchen? 
Onion, garlic and parsley are my holy kitchen trinity. It's amazing what those three ingredients (alone, or combined) can do to a simple dish, or even rev-up the taste on a plate of blanched veggies!
How easy/difficult is it to find locally-produced, fresh and organic ingredients in Egypt? Also, do most people buy frozen vegetables or fresh?
It is easy to find almost anything with the word 'organic' on it, but I highly doubt they are truly organic. The word 'organic' has been used on fruits, veggies, and other items to be synonymous with healthy, also, in my opinion, as an excuse to jack up the prices. There is no regulation on labeling food items as organic, or if there is, it is not closely monitored. Wadi Foods, Isis Organic, and some of Dina Farms' products are organic.
All eggs which are packaged have the word 'organic' on it, which I highly doubt is true. I have trouble finding organic poultry which is sad. Also, there is organic milk, but does that mean it is hormone free?
There are very few health stores and organic stores, and they do not sell much fresh food, other than veggies. They mostly have dried teas and supplements, or pantry items that are jarred or canned. Frozen vegetables are popular, especially for the time consuming things like moloukhiya and bamya (okra). I can honestly say that the frozen veggies in Egypt are far better than most I have tried throughout the world. You can even find Montana brand frozen moulokhiya in NYC!
In your opinion, what are the top three meals that every Egyptian needs to learn to cook from scratch?
Macaroni béchamel, two layers of penne pasta with a ground beef mixture in between, topped off with a béchamel sauce, and baked in the oven.
Mahshy, meat-and-rice stuffed veggies and vine leaves. You have to learn who to roll those vine leaves; it's like a rite of passage for any Egyptian!
Hamam/Simman Mahshy, pigeon or quail stuffed with mixed rice, and then browned to perfection. This is one of my favorites, although many Americans cringe at the thought of eating pigeons.
What are your favorite Egyptian restaurants in Cairo? Take us where only a 'real foodie' would go … 
Every Egyptian family will have their opinion on this, but basically everyone has to try out at least one place in all of these categories:
What are your favorite Egyptian desserts?
I usually do not indulge in Egyptian desserts, except when they are in season, for my waistline's sake! My absolute favorite is Omm Ali; I absolutely love this bread pudding dessert. It used to be a Ramadan favorite, but I enjoy it in the winter to warm me up. Here are a few other Egyptian desserts that I find most delicious:
Aashoura, a milk pudding with wheat berries in  it. I get the best local ashoura however from my childhood favorite labban ('the milk guy'), Khalifa, in Maadi.
Sawabea Zainab (translated as Zainab's Fingers), deep-fried grainy flour, then doused in syrup.  Atayef, mini pancakes stuffed with nuts and fried, then doused in syrup, and baklava with nuts. Sawabea Zainab are the only ones which I buy; the others I make at home during Ramadan.
Malban bi Ein El-Gamal (Turkish delight stuffed with whole walnuts, on a string) and coconut bars (the brown ones), similar to a peanut brittle but with large, brown-roasted, coconut pieces. These are in season now for Moulid El-Naby (Prophet Mohamed's birthday celebrations).
Cooking veggies "Egyptian-style" usually involves tomato paste, as in this delicious kousa (zucchini) with ground beef recipe. Do you like veggies like bamya (okra), fasolia khadra (green beans) and besilla (peas) cooked in red sauce or in another seasoned broth? What are your favorite vegetables?
This is a hard one! I love vegetables, and I love tomato sauce. As a child, my two favorites where fasolia khadra (green beans), and fasolia (black eyed peas). Now, I would prefer bamya (okra) with lots of garlic, and kousa (zucchini).
What are your favorite posts on MidEats? 
Ones which I am dying to try, and have never tasted before as they are not usual to the Egyptian dinner table include the Caramelized Onion and Olive Tart and the Curried Mishat. This one – the Cooked Spinach with Chickpeas in Red Sauce – I absolutely fell in love with, because I love spinach, and I love hummus, but never though to combine them! I did try spinach and soy beans (whole, dried ones) once, which was amazing, but I must try this, especially since it has tomatoes!
Featured Recipe from The Serious Eater: Biscuit au Chocolat (Baskoot bil Chocalata)
Here's another recipe from The Serious Eater that made me swoon. And gave me flashbacks! I grew up in Bahrain, where there was a small Egyptian community. We would often have large get-togethers and potlucks, where each lady would be in charge of a particular meal. One of my favorite tantes (aunts) would always bring a big pan of biscuit au chocolat — creamy chocolate fudge packed between layers of perfectly crunchy biscuits. It was my absolute favorite dessert, and I haven't eaten it in over 15 years. I think I'm overdue for a treat!
The best thing about this dessert recipe? It's a no-bake cake — perfect for MidEats bloggers who don't fancy accurate measurements and cooking times that are particular to baking. Also, it has s-i-x ingredients! How's that for simplicity? One day, I plan to make even the biscuits from scratch (there I go trying to complicate recipes again), but until then, I'll go ahead and try out Ameirah's super-easy and delicious version! 
Biscuit au Chocolat (Baskoot bil Chocalata)
Keywords: dessert low-sodium nut-free soy-free vegetarian cacao French
Ingredients
400 gm tea biscuits or Marie biscuits (This is approx, depends on what you find)
1 stick of butter
1 cup milk
½ cup cream
1 cup sugar
¾ cup cocoa
Instructions
In a large bowl, break the cookies with your hand. Do not use a food processor; we don't want to make cookie dust, only cookie pieces.
Heat the milk, add in the butter, then the sugar, allow to warm but not froth. Stir continuously. Add in the cocoa.
Pour the chocolate mixture over the broken cookies, and mix with a spoon until incorporated. Allow to set for about a minute.
Line a loaf pan (or any other pan, but make sure it's not too big for the mixture) with cellophane (cling wrap). Make sure you use enough for it to hangover all sides about half of the size of the pan. You might need to use two pieces next to each other.
Now pour in the choco-cookie mixture, cover with the pieces of cellophane that are hanging over the sides, and press down on the loaf and wrap it tightly.
Put in the fridge for at least 4 hours to allow it to harden.
Slice and serve cooled. Enjoy!
About the Cook
Ameirah's love for the kitchen started at a young age when she used to sit there for hours on end watching her mother cook some fantastic meals and desserts. Now she wants to share her passion for the kitchen, and revive the lost art which is cooking, by trying to bridge the best of two worlds, her Egyptian and American heritage through her quirky blog and her small kitchen in the heart of Cairo.