Giving Thanks in the Middle East: Not Just on a Holiday
Giving thanks is arguably a Middle Eastern concept before it was ever an American concept. Ask anyone in the Middle East how their day is going, or how they feel about the political strife in their hometown, or what they think about their salary and the economic state of their country, and – no matter how dissatisfied they are – most likely, the answer you'll get is "Al hamdu li'llah", which is accurately translated as "All praise goes to God."  Even Middle Easterners abroad have been conditioned to respond to the daily-asked 'how're you doing?' with 'Good; thank God!' This is not to say that Middle Easterners aren't opinionated, because trust me, if there's any surplus in the Middle East, it's one of varying strong opinions.
Precisely, it's a matter of attitude: we are taught to see the good in even the bleakest of times, and to be ever thankful for our circumstances, which are bestowed upon us and often not a result of our own doing. Mind you, this attitude of contentment is not tied to one religion – it's deeply ingrained in the Middle Eastern culture as a whole. For this reason, the American concept of Thanksgiving is an easy one to adopt by Middle Easterners living abroad; because even though giving thanks is sandwiched between our sentences in daily conversations, we haven't made a holiday for it, but it is most fitting for us to celebrate it on Thanksgiving Day!
The Real Story Behind Thanksgiving: We Aren't Fooled
My family has been celebrating Thanksgiving for over a decade since we moved to the States. However, we don't fall for the standard narrative behind Thanksgiving that continues to be taught in schools: "The American Indians and the English settlers sat down and shared a nice meal of turkey and corn-on-the-cob, and made peace and all was well in the land." We now know this story to be largely bogus. Unfortunately, Thanksgiving was a way for the settlers to give thanks for the number of Indians they killed at regular massacres – a sad and often unrecognized historical fact. Of course, the evidence for this is in the completely wiped out Native American communities and tribes that are nowhere to be found in the United States today! However, though we recognize that the Native Americans were massacred, and that historically Thanksgiving was not the rosy picture of natives and settlers coming together to feast, we use the holiday to celebrate the attitude of giving thanks today, and to learn more about the Native Americans who gave us the land on which we live.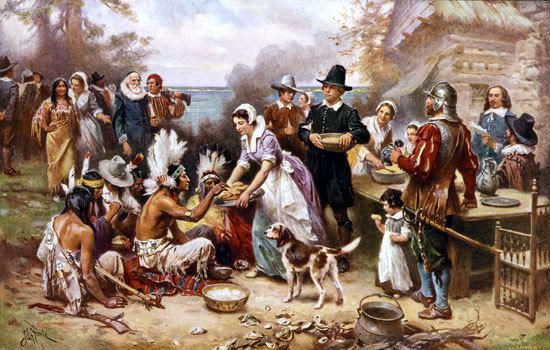 A More Traditional Thanksgiving Menu
Of course, a large part of the way we celebrate Thanksgiving in our household revolves around making and sharing delicious food, as is the case for most people. Every year, we prepare a largely typical American menu, with the turkey taking center stage, casseroles and gravy on the side, and ending with a sweet potato dessert. In previous years, factory-farmed turkeys (laced with antibiotics and raised inhumanely) would make their way to our table. We bought them out of lack of knowledge. This year, articles like this one, bringing to light the horrible conditions in which factory-farmed turkeys are raised compelled me to find a more humanely-raised turkey (without antibiotics) to purchase. I realize that the price difference is steep, but eating a lot of antibiotic-filled meats can actually have direct harm on one's health, so it's not a matter to be taken lightly. The turkey we bought this year is organic, meaning that it is raised without antibiotics and hormones, fed organic, non-GMO feed and given access to the outdoors. A step further would be to buy a pastured turkey (completely free-range) that is not fed corn and soy directly from a family farm, but that's for another year … Additionally, these turkeys, unlike the ones you buy in the store, are also not bred to have a disproportionately large breast area – to the point where they are unable to walk or reproduce throughout their lives. Mind you, these strangely bred birds are the standard breed that's sold in mass around Thanksgiving and throughout the year.
This year, to spice things up a little bit, we're preparing a Thanksgiving menu inspired by complex Middle-Eastern flavors like cardamom, pine nuts, mint and bechamel. No Middle Eastern meals can pass without stuffing some vegetables. After recently trying some preserved grape leaves with a preservative that added gaping holes in each leaf, I decided to forgo the grape leaves and instead follow in Tony Tahhan's footsteps and make a Syrian version of stuffed Swiss chard (salq) leaves instead. Dips would include hummus and yogurt, but with a seasonal touch, such as butternut squash puree  and sumac, respectively. Middle Easterners specialize in casseroles as well; we're including baked kibbe (kobeibah shamy), macarona bil bechamel, and goullash alongside American favorites like green bean casserole, gravy, and cranberry sauce. Finally, for dessert, we're making batata fil furn (sweet potato casserole) and something else with pumpkins that we haven't quite decided on yet.
To make things easier, we're setting up many of the dishes from the day before, and just cooking them on Thanksgiving. We're also marinating the turkey and meats overnight to enhance the flavor. Finally, we're splitting the cooking duties among family members!
Without further ado, here's our tentative Thanksgiving menu, Middle-Eastern style. Feel free to use it as inspiration, or comment on the post to add any suggestions!
Thanksgiving Menu 2011
***
Drinks
'Aseer Manga bi Goz il Hind (Homemade mango juice with coconut)
Karkadé (Homemade hibiscus drink in cold carbonated water and flavored at home with fresh lime juice and raw honey)
Store-bought Apple Cider (This isn't a traditional Middle Eastern drink, but it still made its way into the menu)
Salads and Dips
Fall-themed Green Salad with Apples, Walnuts and Cranberries
Butternut Squash Hummus (made with homemade chickpeas and fresh butternut squash)
Salatet Mayonnaise (Salade Russe, with homemade mayo – recipe coming soon)
Salatet Zabady bil Khiyar (Yogurt dip with mint, sumac and cucumbers. This particularly goes well with the stuffed Swiss Chard.)
Dinner
Deek Rumi (Organic turkey) with a Cranberry-Pomegranate Sauce
Turkey Gravy (made with soaked buckwheat flour and turkey broth)
Fakhda Daani fil Furn bil Toum (Roast leg of lamb with garlic)
Kobeibah Shamy (Baked kibbe  made with ground beef  and bulgur , spiced with cardamom powder and sauteed onions)
Mahshi Salq (Stuffed Swiss chard leaves) Alan, thanks for the suggestion on the midEATS Facebook page to make this!
Macarona bil Bechamel (Egyptian dish made with pasta, ground beef and tomatoes and drenched in bechamel sauce)
Fasolia bil Basal (Green bean casserole with fried onions)
Goullash bi Lahma Mafrouma (Phyllo dough pastry stuffed with ground beef)
Dessert
Sanneyet Batata Fil Furn (Sweet potato casserole with local butter pecan ice cream)
Brought by others: Pumpkin cheesecake, Baklava, and Chocolate cake
Shay bil Habahan wil Laban (Cardamom black tea with fresh milk)
***
This Thanksgiving, consider celebrating by making a Middle Eastern dish or two, and sharing the recipe with friends and family. They will thank you for introducing  some traditional flavors to their table! And remember to be thankful for the bounty you've been given. Al hamdu li'llah!